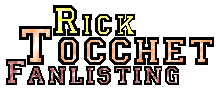 If you skipped to this page before reading the rules, please use the link to the left to read that page first. Note that in order to join the Rick Tocchet FanListing that you do not need to have a website about Toc, hockey, or, for that matter, a website at all. You need only have a valid email address and bleed orange and black. To be added to the RTFL, simply complete the form below. If you do have a website, it will not be listed unless it links back to the RTFL prior to submission. Please see the GRAPHICS page for linking information and options.


Ignore all advertisements that appear on the next page. Click "back" to return here.


* - REQUIRED FIELD AS INSTRUCTED BY THEFANLISTINGS. These are not my own personal requirements.