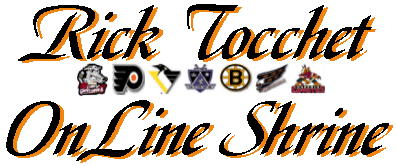 It is with great disappointment that I close the Support book to new entries. The problem is not jerks who insult Rick or hope for his demise (in fact, there were very few hecklers.) No, there is a lower life form than that out there. Guestbooks are the new target for spammers. These scumbags are so low that they have no regard for the purpose of a guestbook. They only care about their own greedy desires. For every one legitimate entry, I get at least ten junk entries. What's really pathetic about this breed of dirtbag is that they begin by complimenting the website, pretending to play by the rules of guestbook etiquette. It's disgusting that I had to close the support book because of the complete disregard some unproductive members of the human race have for another person's work. To the guestbook spammers, I want to thank you on behalf of the fans of this site for destroying something good. You are a repulsive collection of societal rejects.
View the Support Book
Updates and links to articles will be available soon. Until then, leave some kind words. He knows about this site and perhaps he'll learn that we've all gathered here to support him
Greetings Tocchet fans everywhere. Leave yourself plenty of time, I have more information than you'll find on most websites combined. I have a guestbook, but please don't call yourself a fan if you have not yet put your name on the OFFICIAL FANLISTING. Link to the Fanlisting are in the "other" section below. You need only have an email address and a loyalty to Toc to be listed.
Links in bold are the most recently-updated pages.




Visitors since February 11, 1998:


Counter by Rapid Axcess
This site is not affiliated with Rick Tocchet or any of the teams or leagues named within.
Some images are the property of this site and are clearly noted as "Shrine Exclusive". Use of any images permitted only via request as image credits are given on this site. Backgrounds were created by the site owner and not public domain. Questions or corrections to any credits should be directed to site owner.
---