SSM Greyhounds
Stats
Cards

Philadelphia Flyers
Stats
Cards
Old Photos
New Photos

Pittsburgh Penguins
Stats
Cards
Photos

Los Angeles Kings
Stats
Cards
Photos

Boston Bruins
Stats
Cards
Photos

Washington Capitals
Stats
Photos

Phoenix Coyotes
Stats
Photos

Colorado Avalanche
Photos

All Star
Stats
Cards
Photos

Team Canada
Stats
Cards
Photos

Miscellaneous
Off-Ice Photos
Audio/Video Clips
Career Injuries
Milestones
In the News
Wallpaper
Story
Comics
Toc Tidbits
Quotes by
Quotes about


Other
Site Updates
My Story
Links
Unofficial Fan Club
Tell a Friend
Awards for This Site
Guestbook
Webrings
Credits/Information

INDEX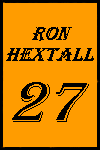 Why Tocchet? (Why NOT?)



I'd like to share how I came to be, and still remain, Rick Tocchet's biggest fan (except maybe his mother!)

Early in the 1984-85 season, I was up late watching a west-coast road game, Calgary, I believe. After the linesmen separated a Flyer from his fight victim, I watched curiously as he mumbled and complained all the way to the penalty box. Even after he was seated comfortably, he was still muttering and scowling. I noted it was one of several rookies the Flyers introduced on opening night; his name, Rick Tocchet. I was so intrigued I hadn't even noticed how handsome he was (but that wasn't overlooked for long!)
With each passing game, the major penalties mounting, my admiration for the first-year winger intensified. I also noted that all my girlfriends had crushes on fellow-rookie Peter Zezel. "Yeah, he's cute," I thought, but he's not my type of player. I loved the physical part of the game, and Tocchet was as physically intense as I had ever seen.
By the end of that season, I had my first Tocchet jersey. OK, it didn't look much like a Flyer jersey, except for the colors, but it was inexpensive, which was important considering I was only 14! By early 1987, I had a REAL Flyers jersey...and proudly wore it nearly every day!
I got my first chance to see Tocchet in person 24OCT87 at the Spectrum (the game BEFORE Dave Brown's infamous crosscheck on Tomas Sandstrom.) Didn't get to meet him, but as I stood at the glass gazing during pre-game, he leaned against it right in front of me! I almost threw myself against it from the other side!
October 1, 1988 still rates as one of the greatest nights of my life! I finally met Tocchet for the first time. I was so scared I nearly didn't approach him. I had a cast on my left arm at that time, which he gladly autographed, along with my book, as well as posing with me for the picture on the previous page.
I also had another opportunity to meet him at a Flyers Wives Carnival a few years later. Despite a groin injury, he was again gracious.
His style of play captured my attention, his attitude toward this fan guaranteed my life-long loyalty. There is so much more I can say, but I AM trying to keep this brief! Thanks for reading!



---