SSM Greyhounds
Stats
Cards

Philadelphia Flyers
Stats
Cards
Old Photos
New Photos

Pittsburgh Penguins
Stats
Cards
Photos

Los Angeles Kings
Stats
Cards
Photos

Boston Bruins
Stats
Cards
Photos

Washington Capitals
Stats
Photos

Phoenix Coyotes
Stats
Photos

Colorado Avalanche
Photos

All Star
Stats
Cards
Photos

Team Canada
Stats
Cards
Photos

Miscellaneous
Off-Ice Photos
Audio/Video Clips
Career Injuries
Milestones
In the News
Wallpaper
Story
Comics
Toc Tidbits
Quotes by
Quotes about


Other
Site Updates
My Story
Links
Unofficial Fan Club
Tell a Friend
Awards for This Site
Guestbook
Webrings
Credits/Information

INDEX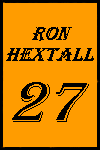 Tocchet Story

Rick Tocchet: Seasoned Champion



Used with written permission of Bob Chebat. Article appeared in the December, 1997 issue of Hockey Arizona.

You wake up in the morning, go to work, and throughout the course of the day, you suffer a fractured jaw. Do you continue to work, or go to the doctor and get it taken care of? I think the majority of us would take the rest of the day off, and get the problem corrected. Coyotes right winger Rick Tocchet does not fit in with the majority of us. On March 15th, 1992, Tocchet suffered a fractured jaw in the first period. Not only did he continue to play that night, but he scored two goals including the game winner. To Tocchet, it is just part of the game. "We were .500 at the time, you want to play and you want to try to win. It's amazing when you have adrenaline. The next day I was obviously in pain, but during the game you just don't think about it." Just the type of attitude the Coyotes were looking for when they brought the 13 year veteran aboard this past off-season.

That particular injury would only keep Tocchet out of the lineup for three games. Just a few months later, he would take a drink from hockey's ultimate prize, the Stanley Cup, in the second half of back to back championships for the Pittsburgh Penguins. Tocchet was a key instrument in the Penguins second run, scoring six goals and 13 assists in 14 playoff games.

So what brought Rick Tocchet to Phoenix? There were five other teams who offered Rick a job during the off-season, but the Coyotes and Tocchet agreed early, in a free agency season where salaries escalated higher than most players or fans had imagined they would. "After talking to Bobby Smith and the Phoenix organization, knowing the players they have here, I made my decision early. I think I could have gotten more money going somewhere else, but Phoenix is a great city, a great sports city, and a great place to live. These are things you use to make your decisions." When the Coyotes signed him on July 8th, Tocchet said, "I am excited to be a part of a new franchise in a new hockey town. Since the first day, the Coyotes have shown a commitment to winning, and I hope to help them achieve their goal."

Winning a Stanley Cup is something Tocchet feels this team has a serious shot at. In comparison to the 1992 Penguins, there are several similarities, starting with the lineup the organization has put on the ice. "Obviously, one of the things missing is Mario Lemieux, there will not be another Mario Lemieux, but, like (Keith) Tkachuk and (Jeremy) Roenick here, we had guys like (Jaromir) Jagr and (Ron) Francis. Colorado has (Joe) Sakic and (Peter) Forsberg, Detroit has (Steve) Yzerman and (Brendan) Shanahan, and you have to have that element. Its just a matter of putting team chemistry together. People think it is just talent all the time, but its not, it is 80% chemistry, that is what wins cups", Tocchet said. Wearing number 92 on his jersey is a way of commemorating that championship season. "I couldn't have 22 because Mike Gartner already had it. I figured it was a nice little thing to do, and hopefully it can bring back some magic and we can win a cup with it."

Born April 9, 1964 in Scarborough, Ontario, the six foot, 205 pound winger has been a hockey fan his whole life. "I used to love Guy Lafleur. I can't play like him, he's incredible." Lafleur was a member of the Montreal Canadians in the 1970's, winning five Stanley Cup championships in nine seasons from 1971 to 1979. "He was a very dynamic guy, he could take the puck on his own, go down the wing and score. I used to love watching him play", Tocchet said of his favorite childhood player. The Stanley Cup is not the only championship Tocchet was a part of. In two of his most memorable hockey moments prior to the cup, he was twice a member of the Canadian team during the Canada Cup tournament, (now known as the World Cup), in 1987 and 1991. "Winning the Stanley Cup is definitely number one, but the Canada Cups were a real close second and third, especially in 1987. When we (Canada) played the Russians, there was no love between us, them and the Americans. It was all about who was number one in hockey, and that was pretty exciting."

The four-time NHL All-star is no stranger to the record book either. The Philadelphia Flyers 121st overall pick in the 1983 draft would go on to become their all-time penalty minute leader with 1683 minutes. Considering the old Broad Street Bullies of the 70's, this was no easy accomplishment. With nine 20-goal seasons, he is one of only four players in NHL history with 300 goals and 2000 penalty minutes, and in 1987-88, became only the third player at that time to have 30 goals and 300 penalty minutes in the same season. While sharing the NHL All-star game record for the fastest goal scored from the start of the period at 19 seconds, he has also had 14 career hat tricks which include two four-goal games.

After spending the first seven and a half seasons of his career in Philadelphia, he was traded to the Penguins in 1992 in a seven player deal that ultimately lifted the Pens to their second cup. The following season he would have the best year of his 13 year career so far, with 48 goals and 109 points while playing in 80 games. The next stop would be Los Angeles in 1994, where he was traded for Luc Robitaille. In the strike shortened season, he led the Kings in goals with 18, before being traded to the Boston Bruins for Kevin Stevens. The last stop before coming to Phoenix was Washington, where he was again included in a seven player deal, and played for the Coyotes new head coach Jim Schoenfeld. Schoenfeld was released by the Capitals in one of the most active summers for head coaching changes in the NHL, and picked up by the Coyotes almost immediately.

Having played in both the Eastern and Western Conferences, there are some adjustments a player must make to compensate for the differences in the schedule. Tocchet stated that, "when you play for an eastern team such as Chicago, you can be home and in bed by 1:00 in the morning, after playing a game in New York or New Jersey. Playing in the west, most of our trips are 3-4 hours, and you have to mentally change to that. You definitely have to adjust your style and it is a little bit of a disadvantage, but if you can somehow adjust your style and find the right routine, it may be an advantage and help you beat an eastern team in the playoffs. You will be used to the travel schedule and they won't. To them, it will be more difficult when they go the other way."

Hard work, dedication and conditioning are some things that have helped change the image of Rick Tocchet since joining the NHL in 1984. He is always one of the last players off the ice, usually working on puckhandling drills. Before the games, he's one of the first to the rink and is riding the exercise bike; after games, he's lifting weights.

When it comes to getting ready for the game, Tocchet says, "I still get nervous even though I play a lot of games, but you just try to stick to a routine that helps you. I'm not the type of guy who thinks about the game all day. I do like to watch hockey the night before as I'm a fan too, I like watching the other teams play. On game day, I get to the rink about 4:30, start preparing the sticks, talk to the guys and watch a little TV. You try and work yourself up to game time so once you hit the ice at 7:30, you are at your peak mentally and physically. You don't want to be too high at 4:30, otherwise by the time you get to the game you are drained mentally." When you look at the numbers Rick has put up over the years, it is safe to say his pregame routine is working just fine. Rick has had the opportunity to play in both the old NHL and the new NHL. With the latest wave of new arenas in the league, he still prefers Madison Square Garden over and above all others. "I liked the old style, Chicago Stadium, Boston Gardens, but now they're all new buildings. It seemed easier to get up for a game because the crowds are on top of you and there is a little bit more of a rustic feeling." One of his most memorable moments was the 1991 All-star game at Chicago Stadium during the Gulf War. "The roar of the crowd during the National Anthem was simply incredible. I have not seen anything like that before", said Tocchet.

Personally, I grew up in Chicago and went to many Blackhawks' games. It was great to be a part of that pre-game roar. I too, had not seen anything like it, until the 1996-97 playoffs in Phoenix, when the Winnipeg white out tradition was continued here. All I can say Rick, is come April, you are in for a big surprise.



---